INFORMATION
8/23 (Tue) Hotel Hanshin Osaka Park Jun-yong & Hayabusa & Yuto Tatsumi Summer Dinner Show
Hotel Hanshin Osaka Park Jun-yong & Hayabusa & Yuto Tatsumi Summer Dinner Show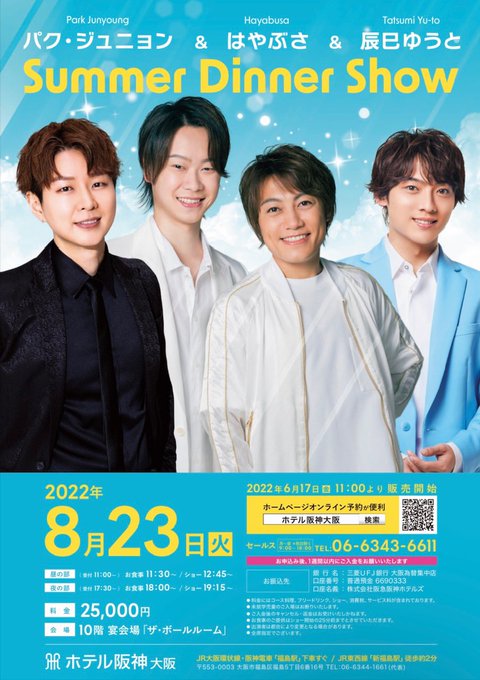 <Date and time>
2022 Year 8 Month 23 day (Tuesday)
Daytime reception 11: 00 ~
Meals 11: 30 ~ / Show 12: 45 ~
Night club reception 17: 30 ~
Meals 18: 00 ~ / Show 19: 15 ~

◆ Venue: 10th floor banquet hall "The Ballroom"
◆ Price: 25,000 yen

* Meals and show venues may differ.Please note.
* Prices include course meals, free drinks, shows, consumption tax, and service charges.
* Meals will be served up to 25 minutes before the show starts.
* Performers are subject to change due to circumstances.
* We cannot accept cancellations or refunds after payment.
* After confirming payment, tickets will be mailed about 2 weeks before the event date.
 Please note that it may take some time.
* We cannot accept seat selection.
* All seats are reserved.
* Preschool children are not allowed to enter.
【ticket】
General release from 6:17 on June 11th (Friday)

【Contact for Inquiries】
Hotel Hanshin Osaka (Sales)
TEL: 06-6343-6611
(Monday-Friday 9: 00-18: 00) * Excluding holidays